Getting engaged to the love of your life is a really exciting time. We have all been there – daydreaming about the who, when, and where of our long awaited engagement, but when it comes to what to do next, sometimes our plans do not make it that far.
I've created a list of 7 joyfilled endeavours to accomplish after you're engaged. I believe following this guide will take away any uncertainty and stress you may feel walking into wedding planning – making it the best experience possible for you and your fiancé.
1.SET YOUR TOP PRIORITIES AS A COUPLE:
This can be a super fun/relaxed way to jump into planning with your fiance. You can go out for drinks or get cozy at a coffee shop to start chatting about what each of your top priorities look like. Maybe it's setting the date around a specific loved one you really value being present. Maybe you really want most of the budget to go toward a specific part of your day, like your dress, florals, or your photographer. Having this conversation first, is a great way to avoid any unnecessary stress and conflict while planning. It also says, 'hey this is YOUR day too, and I value your desires for this day just as much as my own.' I think that's a really sweet way to honor your fiancé while you plan. Remember what it is you're planning – the celebration of your lives taking the next step together. You two are what create your marriage, not the ceremony. Treat each other with patience, kindness, and understanding. Value each other's priorities. Hear their dreams and approach planning with an inclusive attitude. Do these things and you'll have the best time planning your wedding together.
2. SET YOUR BUDGET:
Now that you've laid the foundation with your top priorities as a couple, you can start thinking about your budget and how much it will roughly cost to make your dream day a reality. According to The Knot, the average cost of a wedding was $28,000 in 2021. Below I've listed a rough estimate based on vendors in the Tennessee area to give you an idea of where to start. I have found it's easier to set the budget a little higher than what you actually expect to pay. This leaves room for any last minute emergency purchases and gives you an overall cushion around your budget.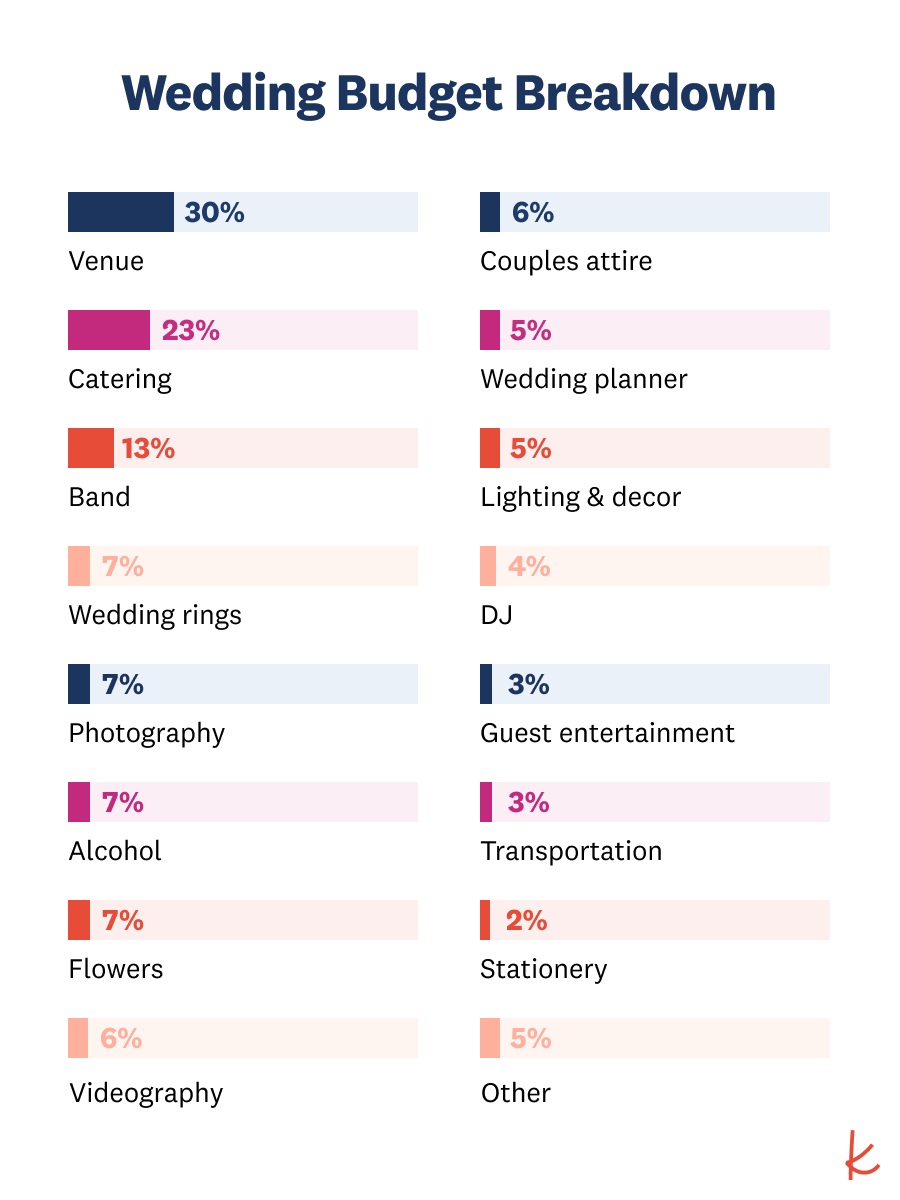 Save the Dates: 75 guests, $250-$500. 100 guests $400-$800. Your save the dates are not your actual invitation. Save the dates are your announcement to family and friends saying you're engaged to get them excited about your upcoming wedding. With social media, I do not believe a physical piece of mail shipped to your family and friends is a must, unless you enjoy sending mail (like I do). You can definitely create a cute Save the Date post with Canva to announce your wedding date.
Pro tip: Try to avoid Shutterfly for these announcements. While the end result is cheaper the quality is not the best. Start with these companies when exploring Save the Date options – Artifact Uprising, Minted, or Etsy.
Venue: $4,000 – $15,000. Research shows around 30% of your budget goes to your venue. Beautiful venues comes in a variety of styles and locations. Choose the venue that best reflects your theme and overall vibe you want for your wedding.
Wedding Dress: $800 – $1,500 The designer and style of your dress will play a huge role in the cost of your dress. Brides can very well pay far below or above these prices.
Grooms suit: I have seen the cost of a suit to purchase range from $200 – $1,000. Like your wedding gown, the style and designer will play a role in your investment. There is also the option to rent your suit. Rentals range from $90 -$180.
Florals: $1,500 for medium sized weddings. $5,000 for larger weddings. It is safe to prepare for about 8%-10% of your budget to go to wedding florals. This includes, your bouquet, groom and groomsmen boutonnieres, bridesmaids bouquets, ceremony and reception arrangements.
Photographer: $1,200 – $3,000. The photographer's experience and the amount of coverage you are looking for will be the foundation of your wedding photography package. These are your memories and your photographer is not a place you want to cut on in your budget. Trust. Me.
Videographer: $1,000 – $2,500 Just like your photographer your memories are being preserved here. While adding video in addition to photographer is a luxury and not so much a necessity, you want your video to be top quality and professional.
Make-up Artist: $80 -$200 per hour. Makeup artists usually charge at an hourly rate. Depending on the makeup look and the number of bridesmaids you have, the rate could be higher or lower.
Hair Stylist: $100 – $300. Sometimes you can find a company who specializes in both hair and makeup so you're able to work with only one vendor instead of two different companies.
Catering: $1,800 – $7,000. According to The Knot Real Weddings Study, "the average cost of wedding catering was $75 per person. However, many couples deem food (and professional catering) a worthy expense. Fifty-seven percent of couples listed food and beverage as the most important priority while wedding planning (that's why doing a menu tasting with your caterer is so essential). And as couples are prioritizing the guest experience, they're spending more creating a memorable food and beverage experience."
DJ: $780 -$1,500. Wedding Wire says, "Couples are spending more on their wedding DJ nowadays than in past years as they are devoting more of their wedding budget to their guests' experience, focusing more on music, food and more." Coordinating a wedding is must like hosting a big party, so it makes sense for couples to prioritize the guest's experience and put music high up on their list.
Wedding Cake: $300 – $800. The average wedding cake is $300 – $800 for a three tier cake feeding 100 150 guests. This blog post by Brides has great information on what goes into pricing. From time, flavor, size, and customizations you can get all of your wedding cake questions answered here.
3. CHOOSE THE SEASON:
Decide on the season you'd like to get married: Choosing the season you get married in will help you build your theme for your wedding. You would be surprised, but the season you get married in really sets the scene for just about everything. For example, color pallet. Will you be looking for bright spring/summer tone, earthy fall tones, or cool winter tones. Your color pallet will be used for decorations, florals, and your bridal party attire. I have even seen (and I absolutely love) when brides add to their Save The Date the color palette for guests to follow). The time of year can also affect the type of dress you want to wear. Ultimately it's your day and you can wear whatever the heck you want regardless of the season, but if you're someone that wants to theme to flow, then looking up dress styles by season is a great place to start.
4. BOOK YOUR VENUE:
Your venue is so important! Like hello! No venue no wedding, ha! If you've had your eye on a venue, it's the very first vendor you need to secure because they are constantly booking dates. Venues typically book out an entire year to a year and six months in advance.
5. BOOK YOUR PHOTOGRAPHER:
Choosing your wedding photographer is no easy task. There are so many talented photographers out there. So how do you know you've found the one for you? Here are a few questions to start with when choosing your photographer. 1. Do you connect with them (their personality, brand, values)? 2. Do you like their editing and shooting style? 3. How long have they been shooting weddings? 4. Are they local to the city you're getting married or do they travel? Answering these questions is a great place to start as you shop around for your dream photographer.
6. BOOK YOUR MAKEUP ARTIST:
I have chosen booking your make-up artist next for a couple reasons. Having your makeup artist already booked will allow you to use your engagement session as your makeup trial while also looking gorgeous for your engagement photos.
Pro tip: I always encourage brides to have fun with their engagement session by making it an entire date night experience. Having your makeup done for the night is just a little added glam and pampering that you definitely deserve as the upcoming bride.
7. BOOK YOUR ENGAGEMENT SESSION:
Checking your engagement session off the list is very important to give your photographer time to shoot, edit, and deliver your engagement gallery back to you. Ask your photographer what their turnaround time will be and let them know you need to send out your save-the-dates so they're able to keep this in mind while planning your session. You will want to send out your save the dates 8 – 12 months before your wedding.
I hope these 7 joyfilled endeavours are extremely helpful to you as you plan your wedding this coming year. If you need any vendor recommendations in the Tennessee area I have a list I will happily share with you! I'm also taking weddings for 2023! If you're drawn to my work, please reach out through my contact page. I would love to hear all about your wedding dreams!
xx
Chelbe